We are planning to log all geolocated Tweets in NewYork, London, Paris and Munich over a 24 hour period via the Twitter API as part of research under the
NeIS
S
project in association with
UrbanTick
and ourselves here at Digital Urban, part of
CASA
, University College London.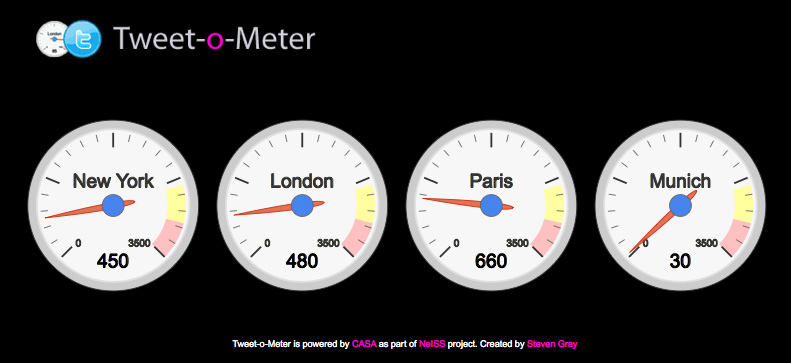 The system is running in beta mode over the next week with visualisation of the Tweets per Minute provided via our Tweet-o-Meter. While the reference to the 1979 is all well and good the system is actually designed to mine data for later analysis relating to further our understanding of the social and temporal dynamics of cities within the Twitter demographic. These can be mapped allowing us to capture 24 hours in the life of the city.
Below is an example of the type of base output we expect, as we are also extracting the social data and retweets we can map this in both time and space.
UrbanTick has a nice tutorial
on how to the do the timelapse of Tweets below:
London Weekend on Twitter from urbanTick on Vimeo.
Currently in beta mode the
Tweet-o-Meter
updates every 10 seconds displaying the city with the highest number of Tweets, the logged 24 hour period will be announced next week. Once collected we will be able to create city maps detailing the Tweet activity over time and space, a wider ranging system will be launched as part of a free data collection service via
NeISS
in the next couple of months.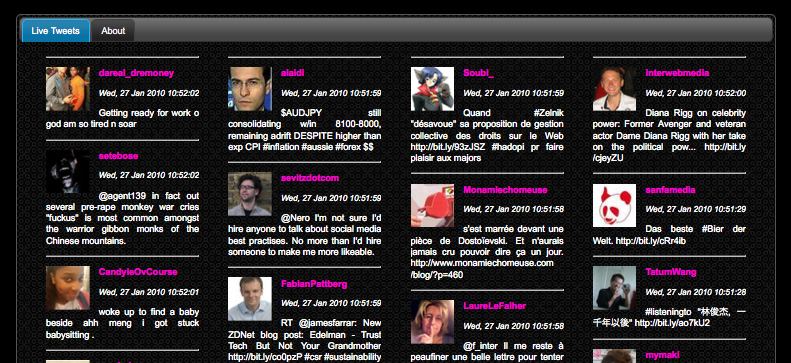 See
http://www.casa.ucl.ac.uk/tom/
to view New York, London, Paris, Munich via Tweet-o-Meter and if your in one of those cities and want to take part, simply make sure you have geolocation turned on in your Twitter preferences.
For those too young or perhaps simply nostalgic for the late 70's/early 80's hit that inspired the work, here is
PopMusik via YouTube
(its great...).