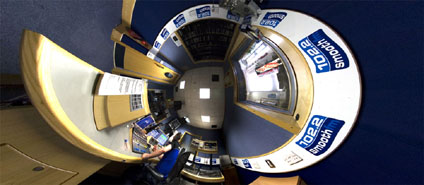 Digital Urban captured the studios of Smooth FM after a conversation with one of its DJ's Kevin Greening. It is part of hopefully a series of panoramas giving an insight into the media that contribute to London's airwaves and life in general.
If you work in the media and would like a panorama taken (its free!) then get in touch via our contact us link above.
Smooth FM can be picked up on DAB in London, Central Scotland, North East England, Yorkshire, West Midlands and South Wales/Severn Estuary.
View the panorama full screen in quicktime virtual reality
(Click and Drag to Look Around)