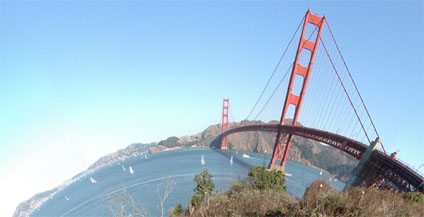 The Golden Gate Bridge suspension bridge spans the opening into San Francisco Bay from the Pacific Ocean. The entire bridge (including the approach) spans 1.7 miles (2.7 km) long; the distance between the towers ("main span") is 4,200 feet (1,280 m), and the clearance below the bridge is 220 ft (67 m) at mean high water.
The two towers rise 746 feet (227 m) above the water.
View the Quicktime panorama of the Golden Gate Bridge, San Francisco
(3.4mb).