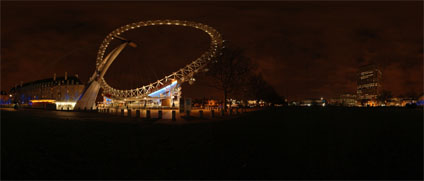 The London Eye was designed by Architects David Marks, Julia Barfield, Malcolm Cook, Mark Sparrowhawk, Steven Chilton, and Nic Bailey. Standing at 135 metres high the wheel travels at 0.6mph and takes 30 minutes to complete a revolution.
The Eye has acted as a focus point for the regeneration of the South Bank area of London which is now home to a unique collection of restaurants, art galleries and shops.
View the Quicktime panorama of the London Eye at night
(1.4Mb).