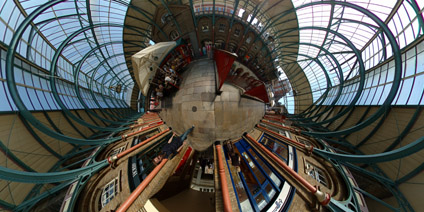 At the centre of Covent Garden is the glass covered Piazza, home to many shops and restaurants. The original site was designed in 1638 by Indigo Jones, with its arcaded walks based on the Piazza D` Arme at Livorno.
The site first became a market place in 1671 and has remained in that role ever since. The market on the current site dates back to 1830, rebuilt by the 6th Duke of Bedford.
The architecture from this period remains intact and provides a splendid backdrop to the wider area of Covent Garden.
View the Quicktime panorama of Covent Garden Market, London
(3.5mb).