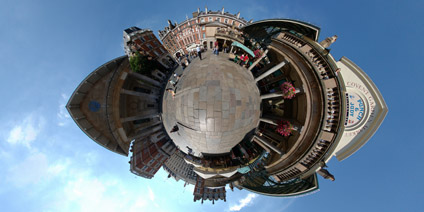 Covent Garden it characterised by its street entertainers, cafes, markets and small unique shops. Close to Leicester Square, it is one of the major tourist areas of London.
The name Covent Garden is derived from its history as a garden of the convent of the Abbey of St Paul. The St Paul's garden supplied nearby Westminster Abbey with fresh produce.
Dominating the west side of Covent Garden is St Paul's Parish Church, serving the Parish of Covent Garden. The Parish boundaries were changed in 1986 to incorporate the Parishes of Holy Trinity, Kingsway and St John, Drury Lane.
The Church was built as a result of the Earl of Bedford, in 1631 requiring the building of four streets to converege onto a square with a chapel and mansions. The design was carried out by Inigo Jones and the church was completed in 1633.
Nowadays the Church front plays host to street entertainers on the main square, over looked by the Punch and Judy pub it is the perfect location for a coffee or a pint in London.
View the Quicktime panorama of Covent Garden, London
(2.9mb).