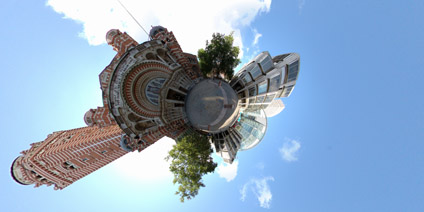 Westminster Cathedral is hidden away near between Victoria and Westminster in London. It is a building in direct contrast to Westminster Abbey with its Byzantine style architecture of the eastern Roman Empire, compared to Westminster Abbeys Gothic.
The Cathedral was built between 1895 and 1903 on the designs of architect John Bentley. The panorama is taken directly outside the Cathedral which is a through route for commuters arriving at London's Victoria Station and walking to Westminster.
View the Quicktime panorama of Westminster Cathedral , London
(2.7mb).