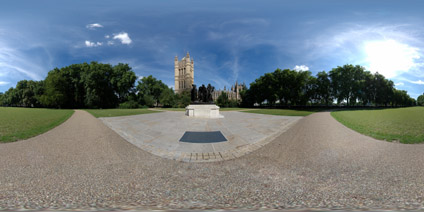 The panorama captures the opposite end of the Palace of Westminster and Victoria Tower. The Tower holds the Parliamentary Archives and was specific built for that purpose after the 1834 fire destroyed the Palace and most House of Commons records.
Dominating the gardens is the The Burghers of Calais (Les Bourgeois de Calais), one of the most famous sculptures by Auguste Rodin. It is a copy of the original sculpture which stands in Calais and was erected in 1914. The sculpture depicts the residents of Calais who surrendered to Edward III in 1347, during the Hundred Years War between Britain and France.
View the Quicktime panorama of The Burghers of Calais, London
(3.2mb).
The raw images behind the panoramas can be viewed at
the Gallery