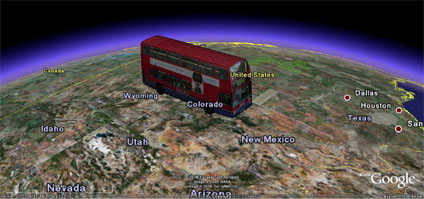 Ok so this is a bit an academic blog, but sometimes on a Friday when its warm outside and your working on an easy route from 3DMax to Google Earth you just click the 'place' button and see where the model lands.
In our case the model landed in Mid America and raised a smile so if you want to see the number 134 London bus from North Finchley on its way to New Mexico then click the file download below.
On a more serious note it shows how not only building models are of use when photomapped and if we can get some sort of animation system running on route paths it might be possible to get buses driving round London. If you could then link them with the GPS feed then it suddenly become a real-time transport model but thats some way off.
You can download the kmz file to fly into the model in Google Earth
here
(6mb)