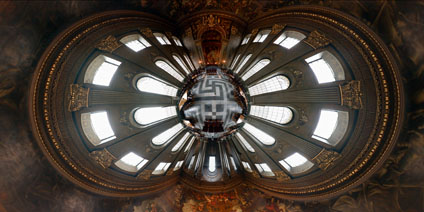 With the arrival of new High Definition screens visualisation techniques need to be upgraded to ensure the quality is upheld when outputting to a Plasma, LCD or other High Definition capable device.
Previously our movies were rendered in DVD quality, or 720x480 resolution. Using a custom profile it is now possible to export via the simple to use (and more importantly rapid to export) Windows Movie Maker at 1280 x 720, or 720p High Definition.
Our first example of the
Painted Hall in Greenwich is available for download
and illustrates the increase in quality possible (20mb .wmv). More examples can be found at the
Windows High Definition Showcase
site.
The increase in resolution does however come at the price of an increase in render times out of 3DMax for the movies. We are currently re-rendering the
'Step Inside' Panorama movie of London
which can be seen on this blog via YouTube. Currently its looking like a 42 hour render, but as soon as its ready we will make it available for download.