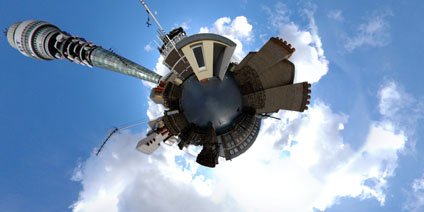 We generally experience the city from street level - the streetscape defines our view of the urban space - yet if it were possible to access the hidden rooftops and terraces of homes and offices we would obtain a completely different perspective.
In a new series of panoramas we aim to capture and share such rooftop views from various buildings and houses in and around London.
Starting off we present the rooftop of Regents Residences in Fitzrovia London. Built in 1870 the building is now dominated by the
BT Tower
yet retains the charm of Victorian buildings. The rows of chimney pots drift back to an era when London was dominated by coal fires in each room and the smog that resulted before the Clean Air act of 1956.
Rooftops are not easy to access and we need your help - if you work in an office and can get us access to the roof for 10 minutes then we can capture a panorama and build up a series of hidden London views. If your willing to help please
drop us a email
and we will get back to you asap.
Each of the views are presented in Quicktime VR, simply click the mouse in the scene and drag to look around.
View the Quicktime panorama of Regents Residences Rooftop, London
(1.4mb).