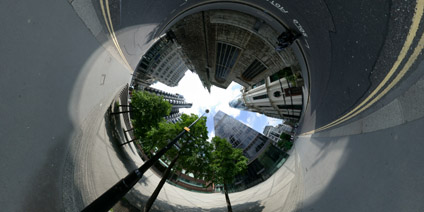 The Swiss Re building, more formally known as 30 St Mary Axe, was completed in 2003 and officially opened in 2004. At 180m its inspiration can be traced back to the Willis Faber and Dumas Headquarters built in 1975 by Fosters and Partners.
The panorama can be viewed in full screen via the QuickTime plugin, allowing you to view the scene in 360x180 degrees at high resolution.
View the panorama of the Swiss Re Building, London
(2.8mb).
The raw images behind the panoramas can be viewed at
the Gallery
Any thoughts, comments or messages? Sign our
quick and easy guest book